Parenteral Nutrition Program
---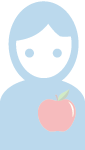 All of our parenteral nutrition patients receive an initial nutrition evaluation and ongoing monitoring by our registered dietitian to promote optimal nutrition and improve clinical outcomes. Through continuous monitoring, we hope to provide coordinated care between home and hospital and assist with a smoother transition home, ensure safety and compliance with prescribed nutrition support and prevent complications and readmission.
Total Parenteral Nutrition (TPN) Program
In home RD assessment to review discharge orders, evaluate nutritional needs, answer any questions and concerns and assess the patient for his compliance and adaptation to his home environment. The RD will call to schedule an initial home visit within the first week following discharge.
Clinical Monitoring will include weekly laboratory results by the pharmacist and dietitian.
For stable patients, TPN can be cycled and initiated in the home
When the condition requiring TPN has resolved, the dietitian will assist with transitioning the patient off TPN through assessment of oral/enteral intake and diet education.
Dietitian Assessment and Reassessment: All written assessments are sent to patient's ordering physician with recommendations for adjustment in the prescribed therapy as appropriate.