About Us
---
Nation's Infusion at Home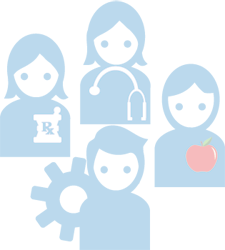 Nation's Infusion at Home is a licensed pharmacy that provides a comprehensive range of therapies including antimicrobials, total parenteral nutrition (TPN), chemotherapy, fluid and electrolyte replacement, immune globulin, pain management, and enteral nutrition. All of our patients are served by a state-of-the-art sterile compounding pharmacy in Owings Mills, Maryland. Our skilled nurses, pharmacists and dietitians provide the support, expertise and education every patient needs to successfully complete their therapy while providing feedback every step of the way. Our healthcare professionals act as an integral part of the patient's interdisciplinary care team providing status updates to physicians, case managers and healthcare professionals. As part of our services, every patient receives a Welcome Home chart with individualized training tools to enhance the one-on-one RN training and to maximize patient compliance.
Nation's Home Medical Equipment
Nations Home Medical Equipment provides an extensive range of home medical equipment including but not limited to apnea monitors, cpap/ bipap therapy, clinical respiratory services, enteral therapy, hospital beds, oxygen therapy, pulse oximetry, support surfaces, ventilators and wheelchairs. Our skilled team of customer service representatives, dietitians, medical equipment technicians, insurance coverage specialists and respiratory therapists provide a team approach to meet a wide variety of home care patient needs. As part of our services, every patient receives a Welcome Folder with individualized training tools, emergency preparedness information and comprehensive instruction. We are based in Owings Mills Maryland, servicing Central Maryland, Northern Virginia and Washington DC.
Our Commitment To Excellence
A highly trained staff of nurses, pharmacists and dieticians
A individualized Welcome Home Educational Binder
Drug utilization, interaction and allergy monitoring
Verification of member benefit and eligibility
Coordination of care with our respiratory and home medical equipment division to provide other essential services including home oxygen therapy, hospital beds and CPAP machines
Coordination of prescribed services within an interdisciplinary team
Coordination of Central Venous Catheter-PICC placement
Convenient drug delivery
Timely follow-up and communication
State of the art infusion therapy supplies and pumps
Individualized patient counseling and education